As announced last June, Notre Dame will be honoring the first night game to be played in the Big House by wearing "throw-back" uniforms:

Paying homage to the rich football tradition of Notre Dame football, the Irish "Under the Lights" adidas uniform includes a white jersey with Kelly green lettering and two Kelly green shoulder stripes, old gold-colored pants, white socks with green stripes and white shoes. A large shamrock logo appears on the traditional gold helmet for the first time since the early 1960s. The years the Fighting Irish won National Championships are listed inside the bottom hem of the jersey.
A picture of the retro-helmet was recently tweeted by
@NDFBEquipment
-
I saw some comments on the web earlier this week where some were objecting to the "new" helmets, saying that they preferred the "traditional" solid gold helmet. It seems to have been lost on the audience that this shamrock helmet IS PART OF Irish history. Mulling it over, I recalled that
Blue-Gray Sky
had done a retrospective on Irish uniforms at some point, so I thought I would dig that up and post the link here, since BGS isn't active anymore. Which sucks.
As an added bonus check out
this piece
, and
this piece
from Helmet Hut which have more detail on the shamrock helmet.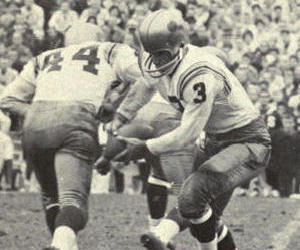 Now don't get me wrong - my first reaction upon seeing the shamrock helmet was "Ewww." But I'll keep an open mind until Saturday night. And if the team plays well, I'll be demanding they wear the same helmets all season.